And the winner is…..
The winning ticket in our "Win A 2017 Kia Rio Hatch" raffle is number 10408. Congratulations to the lucky winner!!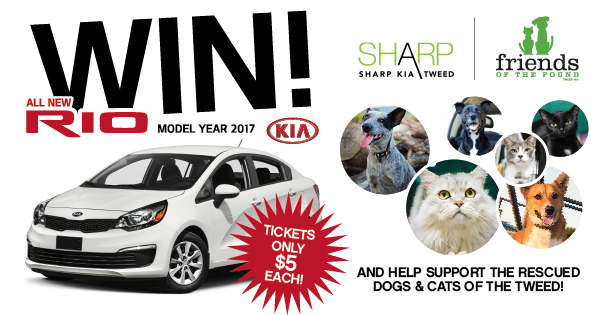 We are a no-kill organisation that rescues & rehomes hundreds of unwanted animals in the Tweed Shire every year.
Without our intervention, they would not be alive today. Before we rehome these animals we ensure they are desexed, vaccinated & microchipped. Unfortunately, all of this takes money & we don't receive government assistance. We are fundraising to cover our ever-growing veterinary expenses & to help fund our subsidised desexing programs that encourage Shire residents to desex their pets.
14000 raffle tickets are on sale.
Tickets are priced at $5 each, 1 tickets for $5, 2 tickets for $10, 3 tickets for $15
Prizes
1st Prize valued at $20,000
1st Prize valued at $20,000.00
A 2017 Kia Rio hatch
Dec 2017-model! 2017-build, Kia Rio hatch 1.4 4 speed ULP Auto, automatic petrol and include delivery and all on-road costs (stamp duty, registration and compulsory third party insurance).
Car is deliverable from Sharp Motors http://www.sharpmotorgroup.com.au/ subject to availability at time of draw. Models & RRP are correct at time of printing and are subject to change. Winner must arrange collection of vehicle at own expense.
Terms & Conditions
The Raffle commences on the 1st of Dec 2017, closes on the 29th of August 2018 and will be drawn on the 30th of August 2018 at Sharp Motor Group, 153 Wharf St, Tweed Heads, NSW at 11:00am. Details of the Winner(s) will be displayed at https://friendsofthepound.com/2018-car-raffle and The Australian, the Gold Coast Sun and the Tweed Valley Weekly. State(s) where tickets are on sale NSW, QLD. This raffle is being held for Friends of the Pound (Tweed) Inc. 17/39-41 Corporation Circuit, Tweed Heads South, NSW, 2486 . Permit/Licence for QLD N/A.
Those involved in the board of directors, management or committee members of the benefiting organisation or those directly engaged in the conduct and draw of the raffle, and their immediate family (those residing at the same premises) are not eligible to entry the raffle.
Prizes are not transferable or redeemable for cash. Some images are display only and may not be a true reflection of the prize. This raffle is hosted for a service fee by RaffleLink a registered business of Lighthouse Group Pty Ltd ABN: 83161197860, PO Box 6758, Upper Mount Gravatt QLD 4122. Lighthouse Group Pty Ltd as RaffleLink is committed to selling raffle tickets responsibly to support community and charitable organisations.
---